TOWN HALL
165" Ultra-HD floor-to-ceiling TV wall
4 sets of ceiling mounted projectors and drop-down projection screens
4 handheld microphones plus 4 ear-set or clip microphones
Built-in speakers
Web-conferencing equipment available
Various partitioning options
| | |
| --- | --- |
| Capacity: | 150 persons in theatre setting |
| | 180 persons in standing cocktail setting |
Brace yourself and get ready to take in its magnificence. Pull back the curtain, come inside and discover its grandeur. See for yourself what boundless space, flexibility and imagination can conjure. Ladies & Gentlemen, I give you the Town Hall!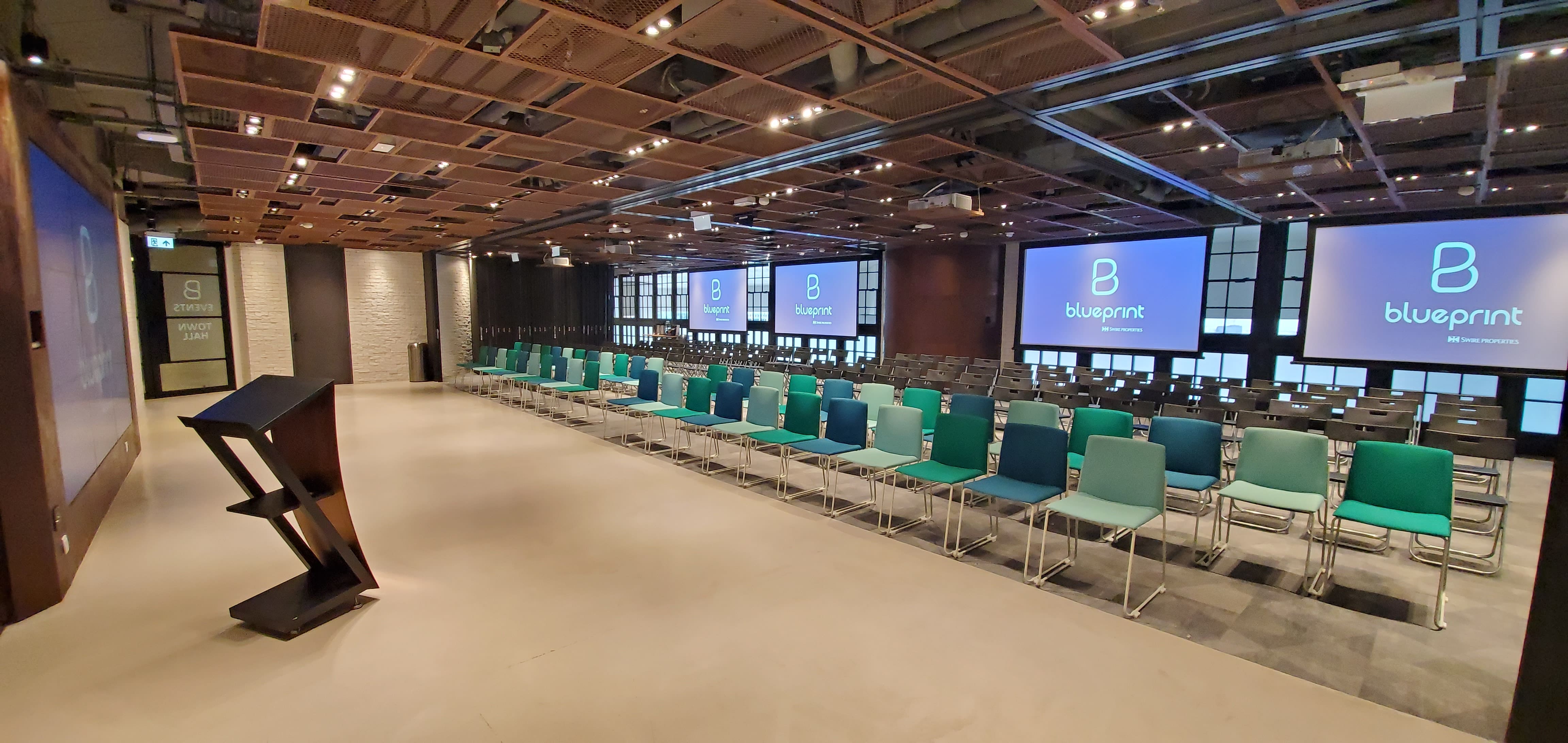 Welcome to Blueprint's single, most spacious Event Venue. Spread across 3,000 square feet, there's enough room to fit a circus. No stranger to acrobatics with its flexible partitioning and setting options, or jumping through hoops of fire with its integrated, full-proof AV-IT set up, the Town Hall is up for any challenge. Along with its modern furnishings and settings, there really is nothing like it.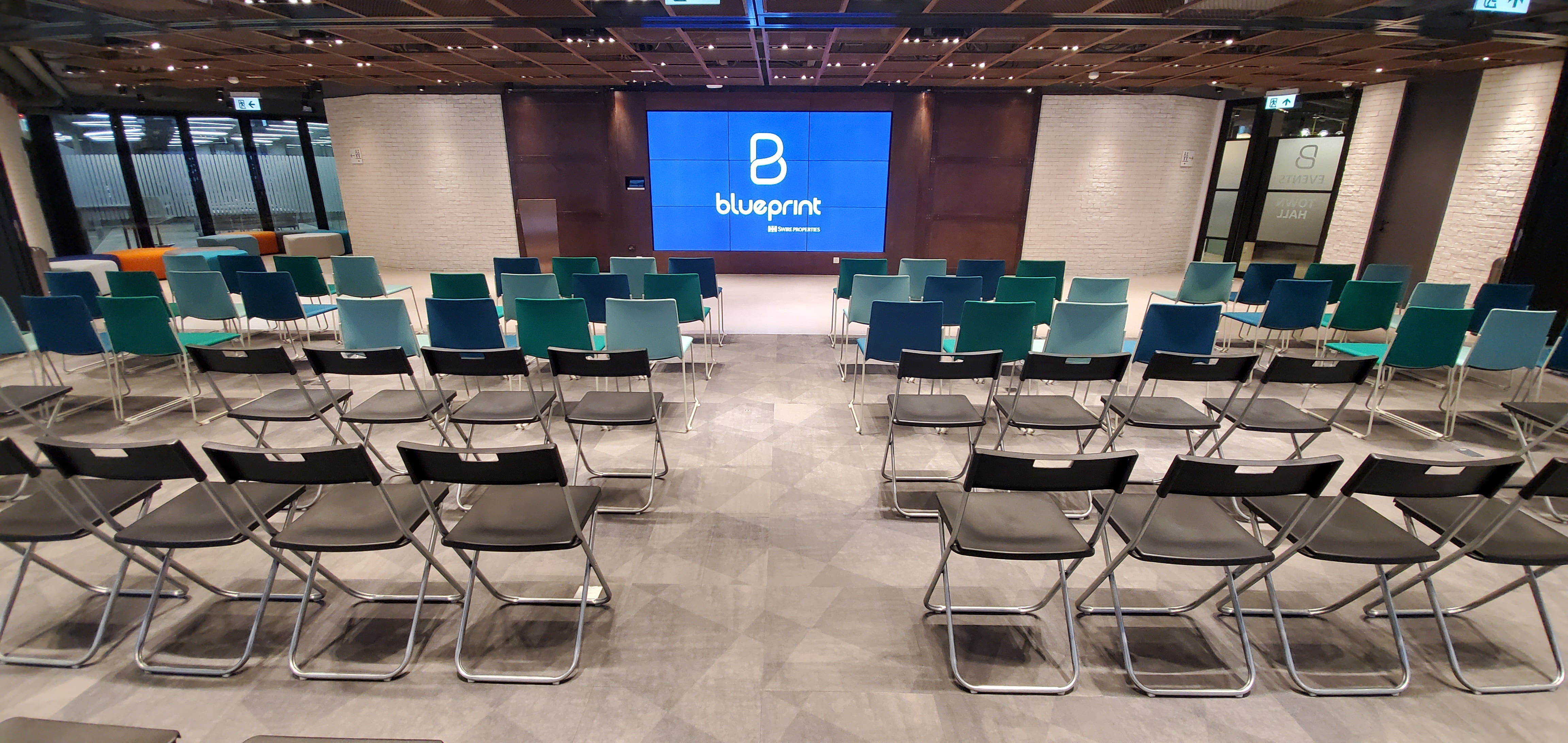 In its most natural form as an open box, the Town Hall can cater for up to 150 persons. Neatly seated, row-by-row, theatre style, your audience will be captivated by the 165" ultra-HD TV wall. Project presentations while giving a speech from the podium to a town hall meeting, connect wirelessly while working in the room during a seminar, link up with colleagues and guests from around the world through web-based video-conference, or blast your logo as the backdrop to a panel discussion, press conference or product launch.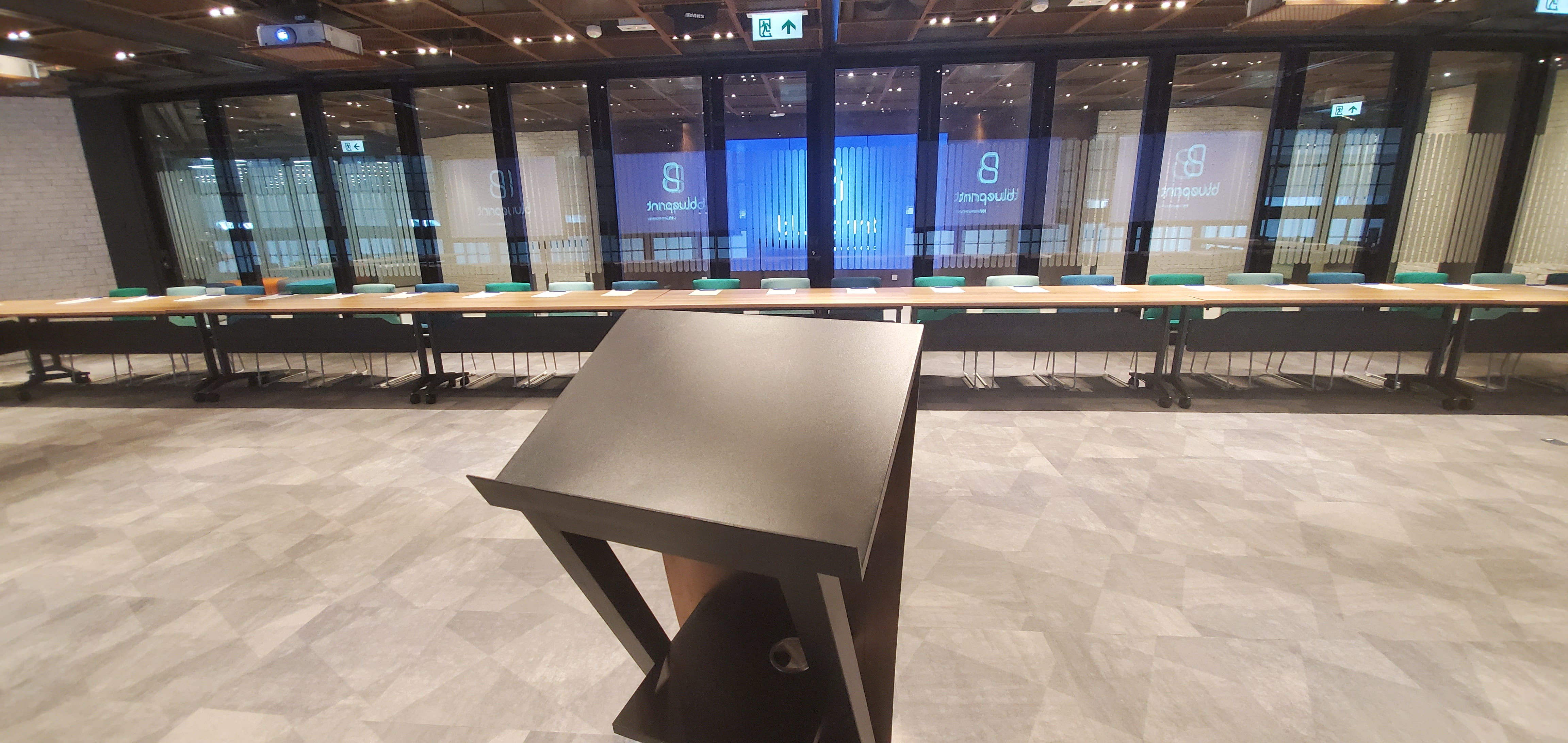 But don't be fooled by the box and let it inhibit your creativity. Close your eyes and imagine what you can do with the space sans chairs! Can you see yourself putting up booths, stages, demonstration areas, or perhaps even a run-way? What about immersing your audience in a 360 degree surround experience by synchronising the TV wall with the four 120" projection screens that flank the opposite wall? Or perhaps your message is best delivered by dividing and conquering all five digital displays? For a more organic ambience, let natural light and sounds flow in through the bi-fold windows running along the length of the back (or front) wall.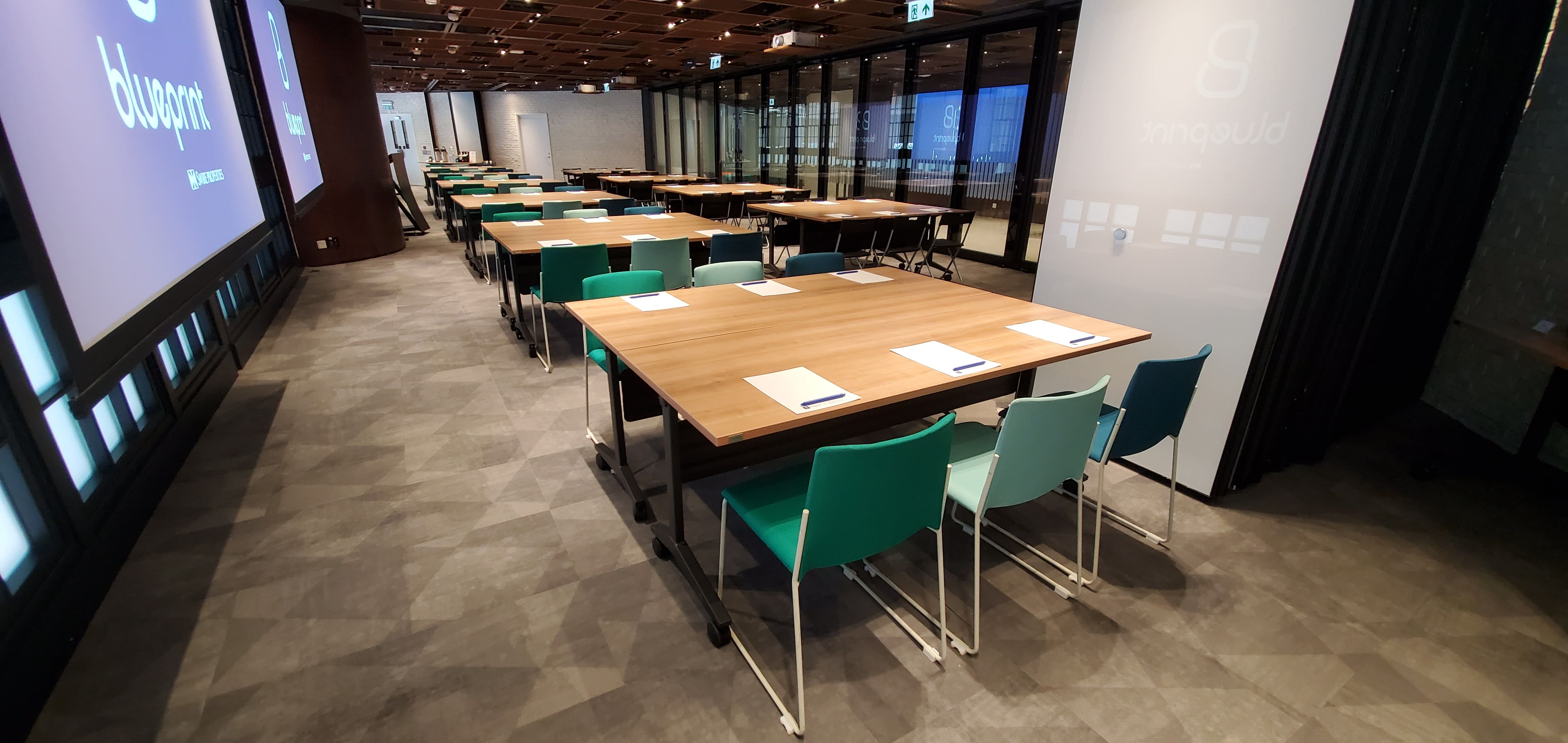 Beyond the kaleidoscope of possibilities offered by its open box plan, our Town Hall is also prepared to flex its muscles to showcase its true flexibility. It can easily get into the splits by unfurling its double-glass operable wall, dividing the Town Hall into a function and pre-function area. This unique arrangement allows you to keep the audience engaged in the function area with the four large projection screens sharing your pertinent deck, presentation or report, whilst respite is close by in the adjacent pre-function area where refreshments can be served and networking sparks under the glow of your company logo emanating from the TV wall.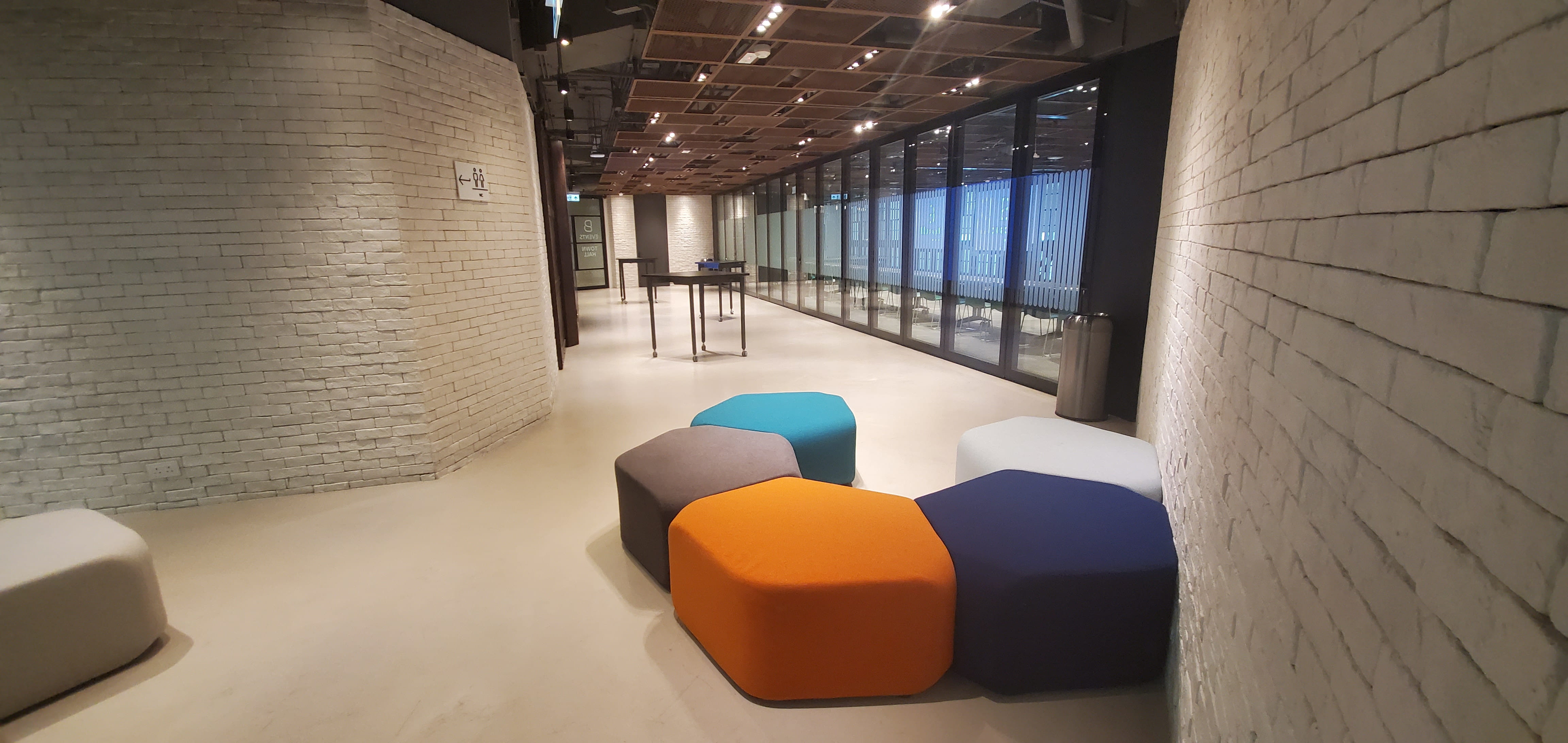 Flexibility or magic, we'll let you decide, when the Town Hall has you seeing double or quadruple. That's right. The Town Hall's function area can be split, and split again! Split it once, and you'll have two Training Rooms with two projection screens per room which are perfect for concurrent workshops or focus groups. Split it thrice for four breakout rooms with one projection screen per room which are great for conferences or as green rooms. And don't worry about teams overhearing one another, all of the Town Hall's dividing walls are soundproof (so Chatham House Rules can apply).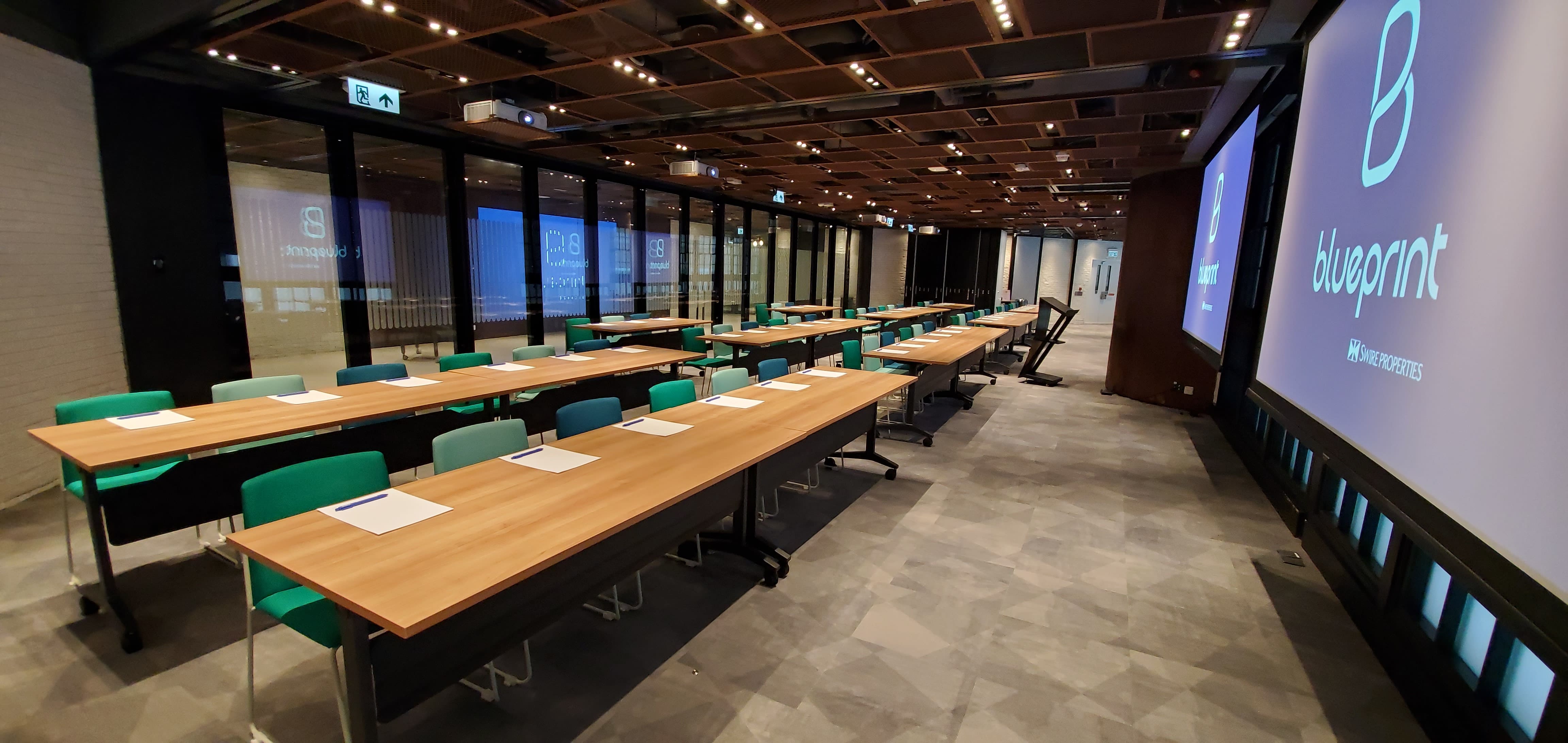 Best of all, you'll still benefit from the pre-function area. Directly accessible from each room, this invaluable common area will draw all your guests together for spots of mingling and casual exchanges which really are the true magic of hosting events.
Still not enough for you? Combine the Town Hall with our other Event Venues. Co-joined and located on the same floor, you'll be in awe of the amount of space that you can command and amazed by the flowing creativity and collaboration that will come alive at your event at Blueprint.

It's almost too good to be true, so come see it to believe it. Book your tour today!